AHS Spring Musical Marks a Milestone for Students and Staff | Culture & Leisure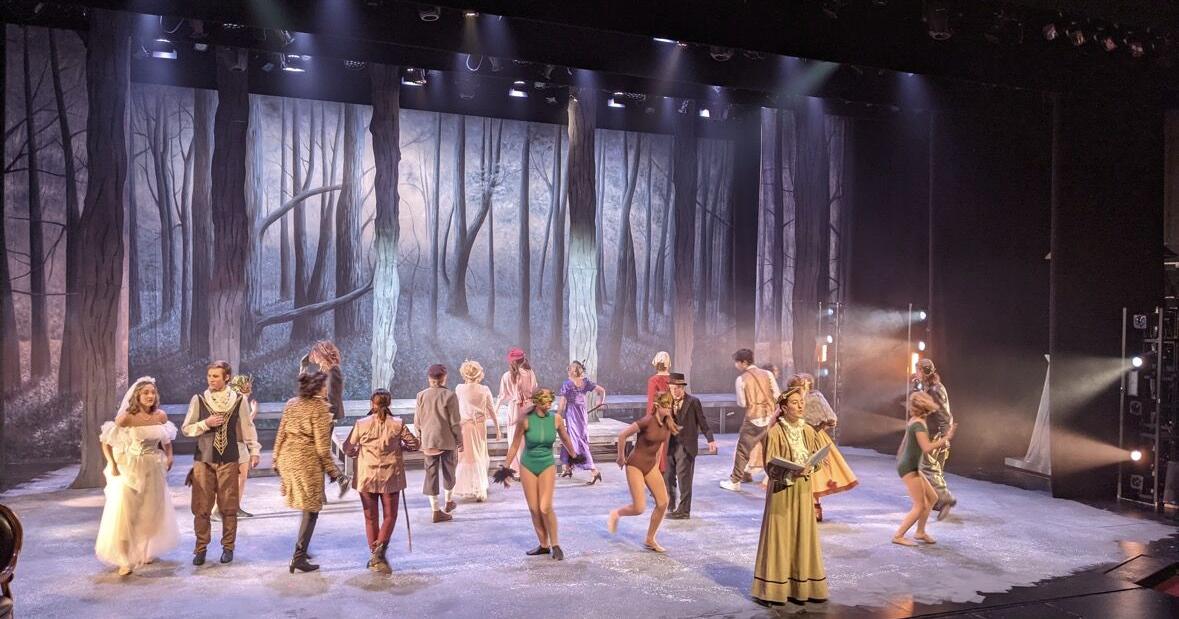 With a large cast and professional costumes and sets, the AHS Theater department put together a major production of Stephen Sondheim's "Into The Woods."
Aspen High School's annual spring musical begins today and runs through Sunday. Showtimes at the Aspen District Theater are set for 6 p.m. today, Friday and Saturday. Matinees are scheduled at 2 p.m. on Saturday and Sunday.
This year's spring production has been a long time coming, said director Logan Carter, who taught acting to middle and high school students in the Aspen School District for more than nine years.
Carter said the Spring Musical has always been a big deal for AHS performing arts students and the school's theater program. She explained how in 2020 the show was canceled on opening night, and last year's production was limited to limited cast, on-stage distancing guidelines and masked performances.
"The experience this year was going back to theater as we knew it – the kids were hungry for it, and it really shows," Carter said. "This show will shock the community when they see the talent and dedication of these students."
With a reunited cast and crew of 35 Aspen high school and college students, "Into The Woods" not only marks a return to theatrical normalcy, but also a monumental moment for the handful of AHS seniors who grew up through in the theater program for the past four years.
"Students have been begging to do 'Into The Woods' for years – ever since this current group of seniors were freshmen," Carter said. "We thought about it, but it's a really big show with really complicated music, and we knew it was a show that needed strong singers and a lot of dedication overall."
Considered one of Sondheim's most popular works and based on the book by James Lapine, "Into The Woods" is a word-rich retelling of the classic fables of the Brothers Grimm. The black comedy features characters and archetypes from fairy tales including Cinderella, Little Red Riding Hood, Jack (and his Beanstalk), Rapunzel, the Witch, and the Baker and his wife. The narrative follows these characters as they each wish for something and go on quests to get what they want. Although their wishes come true, it comes at a cost, Carter said.
"'Into The Woods' is about being careful what you wish for and being grateful for what you have," she said. "It's one of my favorite shows because of the messages, and it's a beautifully told story."
Throughout the show's trajectory, the characters' stories intertwine deep in the woods, unfolding with darkness, greed, and even death. While Act 2 is suitable for all ages, Carter noted that Act 2 is aimed at ages 10 and up due to slightly disturbing and dark content. Saturday matinee at 2 p.m. is a discounted performance of Act 1 only, aimed at younger audiences.
Carter describes "Into The Woods" as one of the greatest spectacles in the realm of musical theater, particularly when it comes to musical prowess and sophistication. When this group of talented students began begging to bring the complex musical to life, she recalled that theater department staff agreed to "build the curriculum for a few years," working with the students in the class. superior throughout their high school career to advance their skills. .
While the department originally announced "Into The Woods" for the spring musical last year, Carter said they were unable to complete the demanding and elaborate production under the COVID-19 restrictions that were still in place.
"This year was the year to do it," she said. "This cast is the cast to make this show – they're up for the challenge of late night rehearsals and tackling all the lines, lyrics and choreography there is to learn."
She mentioned that she has known and taught many of the current high school students involved in the production since they were in seventh grade, noting that they are "a great acting class".
Because of their commitment and leadership, the seniors have grown and inspired the classes below them, the proud teacher remarked, adding that about eight senior class students will continue their musical theater studies at the university and participate in some of the best theater programs in the country.
"This senior class is extraordinary," she said. "It's a bucket list show for me with a once-in-a-lifetime cast."
The AHS production of "Into The Woods" takes place Thursday through Sunday at the Aspen District Theater. Tickets are $15 for students and $20 for adults. Saturday morning at 2 p.m. is reduced to $10 per child and adult.
Tickets for all times are available at simpletix.com.