Howell PAL Theater Company Presents "Matilda, The Musical"

NEW | FEATURES | PREVIEWS | EVENTS
originally published: 08/08/2022
(LAKEWOOD, NJ) — Howell PAL Theater Company sensational, the summertime musical is about kids of all ages and sizes becoming extraordinary superheroes who learn they can write their own story and be empowered to change the world around them. Mathilde, the Broadway musical is the joyful and uplifting story of a brave girl who, armed with a wild imagination, dares to take a stand to change her own destiny. Inspired by the twisted genius of author Roald Dahl, with a book by Dennis Kelly and original songs by Tim Minchin, Matilda has won 47 international awards and continues to delight sold-out audiences of all ages around the world.
Matilda is presented by special arrangement of MTI (Music Theater International) on September 9 at 7:30 p.m. and September 10 at 2 p.m. at the Historic Strand Theater (400 Clifton Avenue) in Lakewood. The tickets are available for purchase on line.
Matilda, (played by 6th grader Kylie Ferland) is a brilliant bookworm who escapes the horrors of her cruel and goofy parents, Mr. and Mrs. Wormwood, (played by sophomores, Cooper Stahl and Kayla Brown). With the kind support and comfort of the school librarian, Mrs. Phelps (played by senior Giada Garcia), Matilda finds solace in the imaginary world of books. Matilda impresses her teacher, the very lovable Miss Honey (played by second grade Adysson Fazio) and during her first term at school, Matilda and Miss Honey have a profound effect on each other's lives. Still, all good superhero stories need a despicable villain. Young students at Crunchem Hall have to deal with the child-hating headmistress, Miss Trunchbull (played by freshman Brian Beehler in Friday night's performance) and (freshman Aidan Panno in Saturday's performance ) who likes to imagine new punishments for those who do not respect its rules. Like Roald Dahl, circumstances go from bad to worse.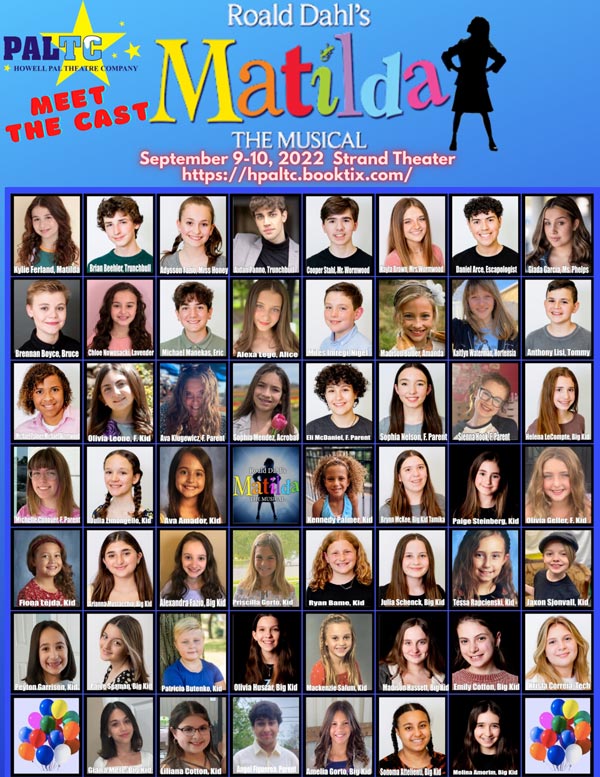 Matilda starts a revolution with the help of her fellow superheroes: Bruce (played by 7th grader Brennan Boyce), Lavender (played by 4th grader Chloe Nowosacki), Tommy (played by 7th grader Anthony Lisi ), Nigel (played by 5th grader, Miles Imregi), Amanda (played by 4th grader, Madison Butler), Alice (played by 6th grader, Alexa Lege), Eric (played by 9th grader, Michael Manekas) and Hortensia (played by 7th grader, Kaitlyn Waterman) and a cast of big kids, little kids, and parents who all learn to hold their own through unforgettable high-energy dance numbers and memorable songs.
Gillian Bryck, Artistic Director of Howell Police Athletic League Theater is proud to present a full-scale Broadway musical for our Jersey Shore communities to enjoy. "Our cast of 52 young actors, ages 7 to 18, worked long summer hours, four times a week, learning difficult songs and choreography. It will be a treat for the public to see.
Advertise with New Jersey Stage for $50-$100 per month, click here for more info
---
Since 2011, the Howell PAL Theater Company brought educational and theater performances of unparalleled quality to the Monmouth County area, under the direction of Mrs. Gillian Bryck. Under the direction of the Howell Police Athletic League, the company's mission is to inspire, educate and challenge young people with extraordinary and positive musical theater experiences. With a foundation of encouragement and confidence, participants learn to explore their creative and artistic talents.
Each season PALTC produces full Broadway musicals with a summer show for teens and a Broadway musical for ages 6-21. Students discover the joy of theater, while learning what it takes to be an actor.
They offer year-round dance and voice acting and musical theater classes at the Howell PAL Community Center located in Howell, New Jersey.
The Howell PAL Theater Company is a non-profit theater company that relies on donations, sponsorships and fundraising to enable people to participate in all PAL theater programs.