Leo V. Bonanno, 92, Air Force veteran, WWII Victory Medal recipient and retired State Street Bank accountant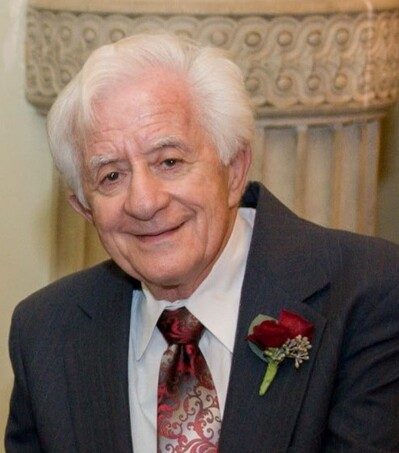 FRAMINGHAM – Leo V. Bonanno, 92, from Framingham, died at his home in Framingham on Thursday, May 27, 2021.
He has been the beloved husband of Alice (Whitten) Bonanno for 66 years.
Born in Boston, he was the son of the late Giovanni and Rosalia (Alongi) Bonanno.
He was a 1946 South Boston High School Class graduate where he proudly played the trumpet in the high school orchestra. He then attended Burdette College and graduated in 1951.
Mr. Bonanno proudly enlisted in the United States Air Force for three years where he served in the TO-5 Squadron as a radio operator and repairman. He also won the WWII Victory Medal.
Before retiring, he worked for 40 years as a management accountant at the State Street Bank & Trust Company in Boston.
Leo was a member of the Framingham Fraternal Order of Elks Lodge # 1264 and the Columbus Club of Framingham.
He enjoyed family reunions and vacations, dancing, singing in the Golden Rays Choir, Italian swing and music, camping at the Indian Ranch, winter getaways in Florida, dining out, had a flair. exceptional for writing, walking and solving puzzles. .
In addition to his wife, he is survived by his children, Daniel J. Bonanno and his partner Irene Collette, Donna M. Luttrell and her husband Mike, as well as Paula Farnsworth Bertone and her husband Michael; nine grandchildren, eight great grandchildren; and several nieces and nephews.
He is predeceased by his sisters, Joséphine, Angelina, Grace, Yolanda and his twin sister Mary, and his son-in-law Duane Carl Farnsworth.
Relatives and friends are invited to attend her calling hours from 4:00 p.m. to 7:00 p.m. on Wednesday, June 2, at Norton Funeral Home, 53 Beech Street in Framingham.
His funeral mass at Saint Tarcisius parish and his burial with military honors at Saint Tarcisius cemetery in Framingham, will take place in private.
Donations in his memory can be sent to a veteran organization of his choice.