library participants transported to Greek | Local News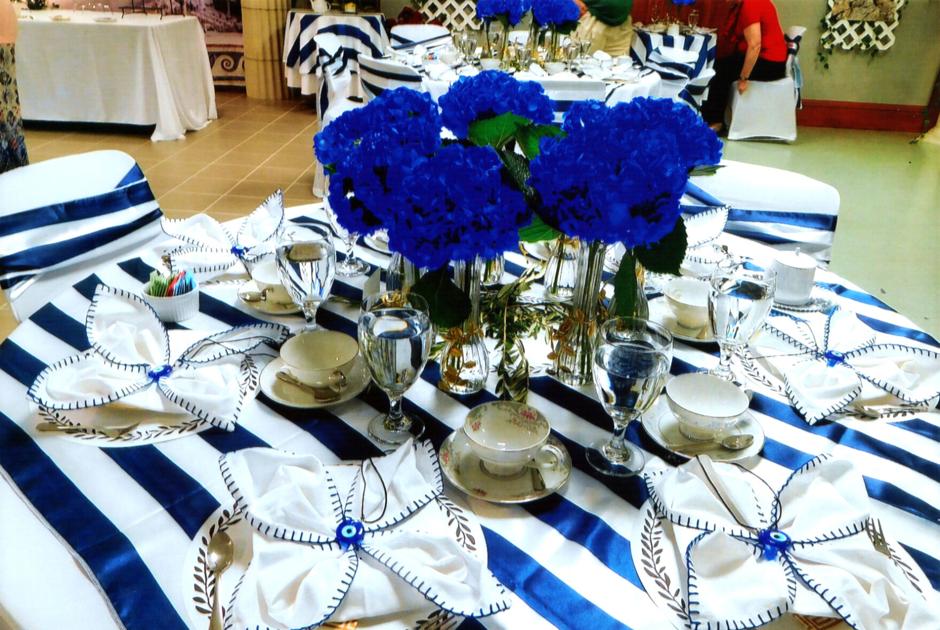 Participants of the Washington Carnegie Public Library's summer reading program for adults were transported to Greece for closing tea on July 23. The large meeting room has been transformed into Greek country. The theme of the summer program was "Greece: An Epic Summer". Adult library patrons had the opportunity to immerse themselves in the history, art, culture and spectacular scenery of Greece. There were 93 enrolled in the program and 65 qualified for tea. To qualify, a participant had to read one of three books and attend five of the 18 programs offered.
The three books for the summer were "Travels with Epicurus: Meditations from a Greek Island on the Pleasure of Old Age" by Daniel Klein, "Circe" by Madeline Miller and "Nights of Rain and Stars" by Maeve Binchy. Guest presenters were Michael Levy, who gave a Wales Zoom performance on the Greek lyre; a Zoon interview with Daniel Klein; a Zoom interview with author Madeline Miller; a live presentation by Olga Kalentzidou, professor at Indiana University, on how geography and migration influenced the foods of Greece. Dr Kalentzidou has included many authentic Greek foods for you to taste. Rick Chambon gave three programs on "Athens, Olympia and Delphi", "Mykonos, Crete and Rhodes" and "Ephesus and Herculaneum". There were also several DVDs and movies, as well as discussions about the books.
Upon entering, guests were greeted by Greek columns, draped wisteria, a bust of a Greek god, and stone vases filled with lilies. The walls of the room were covered with enlarged photographs taken by Rick Chambon and Jeff Gumbel depicting scenes from Greece. Photos included the Oracle of Delphi, Greek windmills, the Parthenon, and Greek ruins, as well as views of the sea and the village. In one area, a replica of the Parthenon, made by Gumbel from chocolate, with the statue of Athena, added to the Greek decor. Greek columns, flowers, and a blue and white ceiling treatment completed the atmosphere.
The tables were elegantly appointed with white tablecloths with a blue and white overlay. Chairs covered in white cloth were tied with matching blue and white sashes. On olive branch placemats, porcelain plates were topped with an embroidered white napkin with a blue edge, centered on a traditional blue, white, and black Greek eye amulet necklace. This symbol is believed to ward off and protect against evil. The necklaces were souvenirs for the participants, brought back from Greece by Chambon and Gumbel. The centerpieces of the tables were individual button vases of dark blue hydrangeas and olive branches. Each guest was able to take home a vase to remember their pleasant afternoon.
After Chambon, Library Adult Services Coordinator, welcome everyone, he introduced Pearl Miller. Miller is a multi-talented library worker and musician. She kept everyone entertained with her keyboard and voice selections. After Miller's performance, Chambon introduced harpist Dr. Fan-Fen Tai. Dr. Tai has been an adjunct faculty member at Indiana University Jacobs School of Music since 2010. She has coached chamber music groups, conducted the IU harp ensemble, and taught harp to college and junior students. . An avid chamber musician, Dr. Tai has formed several chamber groups, Syrix, La Follie and BloomingDuo, performing in international venues such as the National Recital Hall in Taipei and the Amphitheater in Hong Kong. Dr Rai also performs at the West Baden Springs Hotel. Dr Tai received his MD from Indiana University and his MM from the University of Arizona.
Dr Tai gave a short tutorial on the harp and the intricacies of the instrument. She included the history of the musical selections she performed. These include Monteverdi's version of "Le Chant d'Orphée", Handel's "Festin d'Alexandre" and "Chant de Mai" by French composer Hasselman. Dr Tai also provided music during refreshment time.
After the musical performances, "chef" Jeff Gumbel presented a wide and delicious range of savory and sweet refreshments touching both British and Greek traditions. He was assisted in the service by Pearl Miller, Lara Santiago and Alice Zwilling. The scones were plain, raisin and fig with toasted almonds, served with Devonshire curd, honey and fig jam. The tea sandwiches were crowning chicken, egg salad, ham and Swiss salad, and sweet fig cream cheese. The large selection of desserts included the very popular ginger brandy, poppy seed cake, raspberry mousse and candied orange slices. Along with these favorites were the carrot cake, espresso mousse, fruit pies, chilled pear soup, chocolate covered marzipan, dark chocolate cherry financier, banana / macadamia nut financier, meringue nests. stuffed with strawberries, lemon shortbread, baklava rolls, elderberry nuts, flourless chocolate cake, chocolate spoons filled with mint cream, Greek wedding cookies, ginger cookies and white chocolate truffles.
The tea tables were adorned with blue and white fabric covers. There was a wide variety of specialty teas imported from Taylors of Harrogate in Yorkshire, England. Taylors has been providing tea since the 1800s and is the supplier to HRH the Prince of Wales.
Several door prizes were awarded at the end of the tea, including a Greek necklace, a Greek scarf and a restaurant gift certificate. Whenever a participant attended a program, joined the Friends of the Library, read a book, or returned a reading journal about a book read, their name was entered for the awards.
Chambon acknowledged and thanked the sponsors of the Adult Summer Reading Program. These were the German American Bank, the Thompson Insurance Agency, the Beta Zeta section of Tri Kappa and the Friends of the Library. Chambon also thanked participants and encouraged them to participate in the fall reading program. This fall, the theme is "For the Birds". The title chosen is "The Hummingbird's Gift" by Sy Montgomery. This is the story of what it takes to allow tiny orphaned hummingbird babies to survive and the dedication and vast knowledge required of those who care for them.
Sharon Sorenson, who writes "For the Birds" in the Evansville Courier press, will be a guest speaker. She will be talking about not only hummingbirds but other birds that live in or visit this part of Indiana. She is also passionate about the native planting that the master gardeners initiated at the library.
There will be two DVD documentaries on hummingbirds. There will be two book discussion events and two movies, the classic "The Birds" by Alfred Hitchcock and the 2021 movie "Hitchcock" starring Sir Anthony Hopkins and Dame Helen Mirren. Registration for the fall reading will begin August 16 and the program will run from September 28 to October 26. Registration can be done at the main library office or call the library at 812-254-4586.