LUCIFER: Co-executive producer and screenwriter Mike Costa of the musical and animated episodes – Exclusive interview – Part 7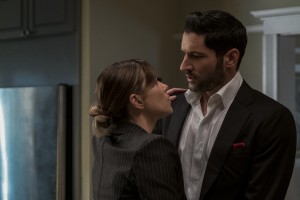 By ABBIE BERNSTEIN / Editor
Posted: November 1, 2022 / 02:11 AM
Going from the Fox broadcast to the Netflix streamer and knowing where the show was headed in terms of conclusion allowed the creators to LUCIFER experiment with form. This means that in season 5, we had "Bloody Celestial Karaoke Jam", in which God (Dennis Haysbert) decides that it would be nice for everyone to express themselves in song and dance. The angelic sons of God, Lucifer (Tom Ellis) and Amenadiel (DB Woodside) are the only ones who know what's going on – Lucifer is furious, especially as it makes him sing his innermost thoughts to his father.
Then, in season 6's "Yabba Dabba Do Me," Lucifer and his love interest Chloe Decker (Lauren German) find themselves trapped in someone else's Hell Loop, which is fully animated — just like Lucifer and Chloe.
In part 7 of our exclusive interview with LUCIFER writer/co-executive producer Mike Costa, he tells us how the musical and animated episodes came to be.
"Bloody Celestial Karaoke Jam," Costa recounts, was primarily the brainchild of executive producer Ildy Modrovich who, along with fellow EP Joe Henderson, was one of LUCIFERshow runners. Modrovich did most of the heavy lifting on the episode.
"But the only contribution a lot of us made was finding the songs," Costa says. "Because one of the biggest challenges of the musical episode wasn't just the production and having to do all these big numbers, and things that we've never done on this scale on the show before. , it became [the rights to use] the music.
"Because not all songs are available. We wanted to use [some] songs, but some artists, who I won't name, weren't comfortable with using their songs on our show for some reason, maybe because they hadn't seen it and didn't didn't know what it was, or maybe they had seen it, I don't know. But you have a list of songs that you want to get, and then it slowly changes, because you can't get that song, or that song is too expensive," laughs Costa.
Continuing, Costa explains, "We have to pay money for these songs. Some of them are very expensive, and we have a certain budget that we have to respect. So maybe we can do a very expensive song, but the others have to be cheaper. Or we can do a bunch of moderately expensive songs. That was the hardest thing, because we couldn't just pick any song and drop it, like we can when we're doing a normal episode and we have a song in the background. In the worst case, we can change this at the last minute. You want the song to match the scene, but there can be a lot of songs that do that, and you can make a decision pretty quickly.
"With that, we had to have the songs before we even started filming, because they had to sing and dance to them, so that was the hardest process. 'Okay, so the opening song is going to be this, and the song that Dan [played by Kevin Alejandro] will sing is this. Because they all have to work for the story too; it can't be just any song. And we had a lot of options that we just couldn't have, and we had to be like, 'Okay, what about this one? How about that?'
"There were many times when Ildy came back to the writers' room and said, 'Okay, we couldn't get this song. What other song do we think would work here? So, I was definitely part of those brainstorming sessions, but in terms of production, it was all Ildy and Sherwin Shilati, the director, who was very close to the show. They really killed this episode.
As for 'Yabba Dabba Do Me', Costa says, "In the same way that the musical was Ildy, the animated episode was totally Joe [Henderson]. He was so excited to do an animated sequence in the episode. This is partly the reason why he did not write the [Season 6] first ['Nothing Ever Changes Around Here,' which Costa scripted] was because he really wanted to write the animated episode, and he knew that the animated episode wasn't going to be the first episode.
The timing was fortuitous, Costa adds, because, amid COVID restrictions for filming, "Every scene in the show that's animated is a scene where we don't have to shoot it with actors. So that was also very COVID friendly.
"Similar to the musical episode, it provided all of its own kinds of challenges," laughs Costa. "Maybe less of the last-minute challenges 'we have to figure this out' than the musical episode, but we've never worked with animation before, and it's a whole different kind of process, and a whole different kind of a pipeline, and they operate on a different scale, at a different speed. So it was really interesting to see that process unfold. In its own way, it probably took as much extra time as the musical episode, just because of the amount of extra animation work.
It wasn't more work for the normal writers, actors, and production crew, Costa notes. "It's the work of a team of animators. But then we have to look at each accessory that is part of the process and approve it. Only Joe had to do this stuff, but it was really great to include all of us, so we could be part of the process too. Every time he entered an animatic or scratch track, he showed it to us. So that was really cool and fun.
Related: LUCIFER: Exclusive interview with writer and co-executive producer Mike Costa on the ramifications of Rory – Part 6
Related: LUCIFER: Exclusive interview with writer and co-executive producer Mike Costa on the spiritual side of the series – Part 5
Related: LUCIFER: Exclusive Interview with Writer and Co-Executive Producer Mike Costa on SUPERNATURAL Connections – Part 4
Related: LUCIFER: Exclusive Interview with Writer and Co-Executive Producer Mike Costa on the Season 6 Premiere – Part 3
Related: LUCIFER: Exclusive interview with writer and co-executive producer Mike Costa on the motivations of the characters in season 6 – Part 2
Related: LUCIFER: Exclusive interview with writer and co-executive producer Mike Costa on the end of the popular DC Comics adaptation – Part 1
Related: LUCIFER: Exclusive interview with Kevin Alejandro to learn more about Season 5B and more – Part 2
Related: LUCIFER: Exclusive interview with Kevin Alejandro on season 5B and more – Part 1
Related: LUCIFER: Exclusive interview with Kevin Alejandro on season 4, directing and playing the detective – Part 2
Related: LUCIFER: Exclusive interview with Kevin Alejandro on season 4 – Part 1
Related: LUCIFER: Exclusive interview with showrunner Joe Henderson on season 4 and season 5 – Part 2
Related: LUCIFER: Exclusive interview with showrunner Joe Henderson on season 4 and Netflix – Part 1
Related: LUCIFER: Exclusive interview with Tricia Helfer on the role of the Supreme Goddess in season 3
Related: LUCIFER: Exclusive interview with actress Aimee Garcia on season 3
Related: LUCIFER: Exclusive interview with Kevin Alejandro on season 3
Related: LUCIFER: Showrunner and Executive Producer Joe Henderson on Season 3 and Mythology – Exclusive Interview – Part 2
Related: LUCIFER: Showrunner and Executive Producer Joe Henderson on Season 3 – Exclusive Interview – Part 1
Related: LUCIFER: Joe Henderson and Ildy Modrovich on season 2 – exclusive interview
Related: LUCIFER: Kevin Alejandro discusses his rivalry with the devil – exclusive interview
Related: LUCIFER: Lauren German on her work with the Devil – exclusive interview
Related: LUCIFER: Jonathan Littman on having fun with the devil – exclusive interview
Follow us on Twitter at MISSION X
Fan us on Facebook at MISSION X
Related
Related Items: