Musical Chairs with Mrs. Metcalfe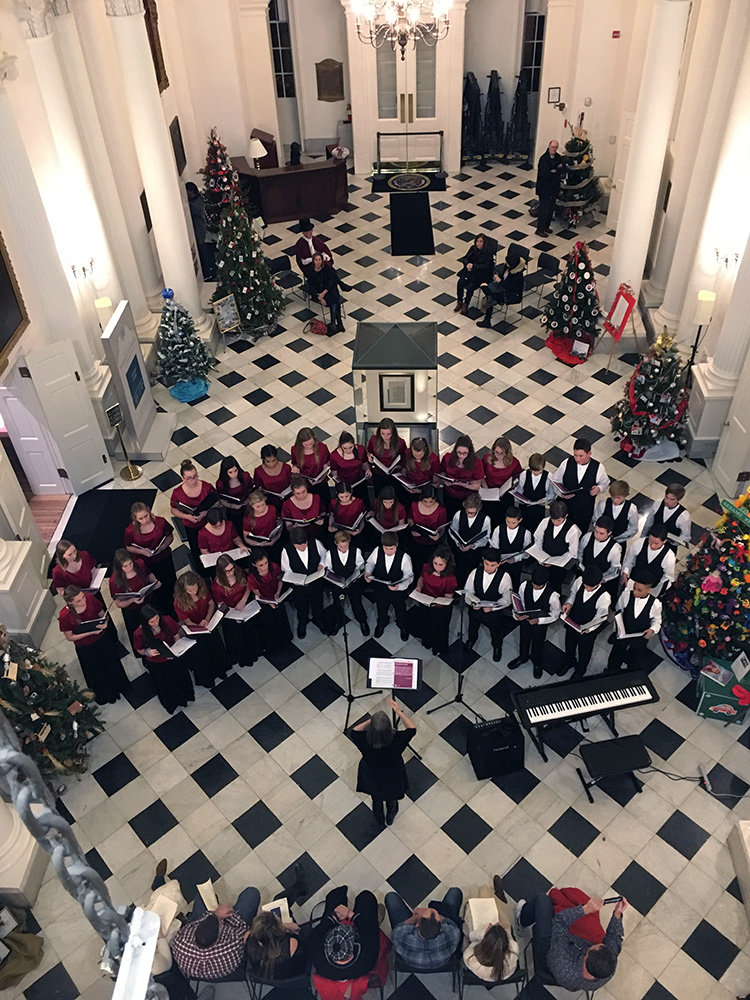 At the start of school, there has been a noticeable change for most students in the music department this year, at both Severna Park Middle School and Severna Park High School. Sara Metcalfe, beloved choir and music teacher for eight years at Severna Park Middle School, has transferred to Severna Park High School.
The Metcalfe middle schoolers were thrilled to be able to continue working and learning with her during their high school years.
"I'm so glad Mrs. Metcalfe is with us in high school," said Eren Cameron, who is in his fourth year with Metcalfe as an incoming freshman. "She has a ton of experience and knows how to help us use our voices. If we think we're better at another singing part, she always lets us try it out and see how it might fit. She shows us how to use our voices instead of just telling ourselves.
Music has always been an important part of Metcalfe's life. When she was 5, she decided she was going to be an opera singer (after seeing Grace Bumbry perform "Salomé" on her family's black-and-white television with her father). Music was still playing in his house thanks to the Société Radio-Canada.
Metcalfe grew up in Halifax, Nova Scotia, a city that supported and encouraged music in schools and offered free after-school music lessons to all children in the city. She spent most of her middle and high school afternoons in the Halifax City Music Department, singing in honor choirs, playing guitar and ukulele, and taking voice lessons.
According to Metcalfe, "College was a miserable time for me and I was never a good student academically. Without the music, I don't know how I would have survived those years. I believe my success as a choir teacher is the professional career I have had for over 40 years and my ability to understand what students are going through.
Metcalfe shared his thoughts on his career change in the following chat.
What is your finest moment during your career at SPMS?
I can't believe how much we've accomplished and the adventures we've had since I started at SPMS in 2014. I love the annual eighth graders field trip to NYC, especially the year where we gathered around the Rockefeller Center Christmas tree and sang our winter concert music (this led to a new annual tradition). Singing the national anthem at Camden Yards was a dream come true (just wish the Red Sox had played that night). It was a real honor when the college choir was invited to sing at the Pennsylvania Music Educators Association conference in Pittsburgh and perform the national anthem at the Defense Information Systems Agency.
The most magical night of the year was our annual invitation to sing at the State House by candlelight. I love when [assistant principal] Mr. Lou Anoff goes down to the M-Hall to sing with the tenors and basses and learns to play the guitar. The year my students were obsessed with the musical "Newsies" turned out to be the year my sixth and seventh graders got to take my other favorite excursion to see it at Toby's Dinner Theater and they were invited by boys to play one of the songs from the show during intermission.
What will you miss the most?
My favorite thing about this job is the students surprising you and realizing that you are truly making a difference in their lives. The student who didn't want to take guitar lessons but who, by the end of the year, comes once a week to show you the new songs he has learned. Children who are not choir students but who come to play the grand piano. The student who made you want to pull your hair out, but you see them in high school and they're always in chorus, always singing. The boys in choir class who never want to sing in class, but when they attend a musical theater workshop in New York, they're totally into it and you realize they really can sing and dance! And, then, everyone is invited to sing along at the Hard Rock Cafe later that day.
What new challenges prompted you to move to SPHS? What are you most looking forward to doing in your first year at SPHS?
Mr. [Michael] Brisentine and Mrs. [Kathy] Gabriele are stellar musicians and teachers and left big shoes to fill in both the huge impact they had on their students and the high standards they held them to. Their knowledge of choral literature is impressive, and I have always been seduced by the choice of music they program during their concerts.
I look forward to the wide variety of more ambitious music that we will be able to play with the different vocal ensembles that Mr. Brisetine has created: choir, vocal ensemble, treble choir and floor. It will also be a nice change to teach piano (which is more in my wheelhouse) than guitar. But what I'm most looking forward to and what I'm most excited about is singing with all my favorite people again!
I think my biggest challenge will be to take over the a cappella group that Mr. Brisentine created and which is called Sol. I was able to attend the class and watching Mr. Brisentine work with these students was truly inspiring. You could see the incredible bond they created with each other and the genuine affection and respect they have for him, by the way they sang with such musicality and emotion. The intelligent musicality of this band is off the charts.
I've performed a wide variety of vocal music over my career and can't wait to learn something new and add to my toolbox. And I am extremely grateful that my dear friend, Mr. Brisentine, offered to guide me through my first year.
What is the secret of your success as a teacher so appreciated?
The real secret of my success: my students! I couldn't do what I do if I didn't have the most amazing college kids who trust me, are willing to be awkward with me, love squeaky chickens and dragons (especially Mama Chicken), Alfred, "The Mice" and Mr. Bill, and take risks by trying new things. I have also been extremely fortunate to have the most amazing volunteer parents who have voluntarily dedicated countless hours to ensure the success of the Musical, College Choir, Drama Camp, Musical Revue and more. .
Many of these parents serve on the board of the Spartan Lyrical Society, which has been invaluable to the growth and prosperity of the music and theater programs at SPMS. I am honored by the dedication these parents make to ensure the success of our programs at SPMS. However, we really couldn't do what we do if we didn't have great administrators at SPMS. I am forever grateful for their continued support of all SPMS music and arts programs.
I love living in Severna Park and being able to support our town's music community. I look forward to maintaining my relationship with SPMS through concerts, recruiting events, etc. and to continue the extraordinary legacy of musical creation at SPHS.