Pajaro Middle receives $10,000 for musical instruments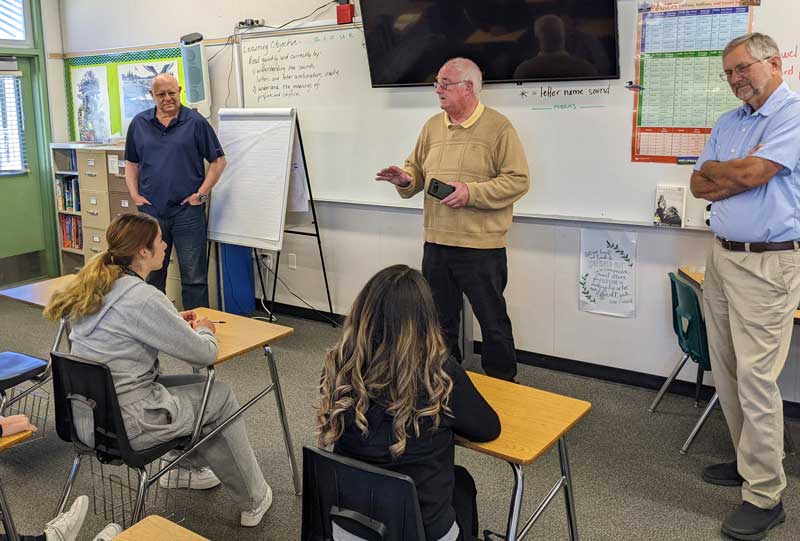 For the past two years, the Dan & Lillian King Foundation, which aims to advance learning about the U.S. Constitution, has sent dozens of eighth graders from Monterey County schools to see live productions of the Tony Award-winning show, "Hamilton: An American Musical.
Hundreds of students at Pajaro Middle School have had the experience, most recently in March, when more than 160 of them were bussed to Fresno for a performance.
Prior to the trip, foundation board members Mark Del Piero and Glenn Church were invited by Pajaro Middle School principal Christopher Harris to see a group of music students perform songs from the show. It was then that Del Piero and Church realized that the school desperately needed new instruments.
"The kids did a great job," Church said, "but it became very apparent that they were using instruments from the last century, literally."
The foundation recently awarded a $10,000 grant to help the school replace and purchase instruments for the music department. This will include keyboards, a number of different musical instruments, and anything the school might need to complete its curriculum.
"That 10K – we didn't just pull that number out of thin air," Del Piero said. "He came based on the recommendation of the superintendent's office. We leave it up to Harris and the music teacher to identify which instruments are worth keeping and to replace those that are just about to die.
Harris said the school was taken "completely by surprise" by the donation.
"[Del Piero] asked a very simple question: 'Why do some of your instruments date from when I came to school here?' said Harris. "Our response was, 'We pride ourselves on having enjoyable music lessons for our deserving students, however, instruments are expensive and school resources are limited.'"
A request for support for Pajaro's music program was then submitted to the Foundation, and soon the school received a call with news of its official approval.
"Our responsibility is always to ensure that the educational opportunities for students, in terms of learning about the constitution, are met," Del Piero said. "If one way to do that is to facilitate their music lessons with additional and replacement instruments, then we have the money to be able to do that."
The church accepted.
"Every child, every student learns differently," he said. "And for these students…they are not just learning about music, but about history through music, the constitution, and our country."
Both Del Piero and Church have a personal connection to the Pajaro School: Del Piero is a former student, and Church's parents met at school. That makes the donation all the more meaningful, Church said.
"Both of my parents were teachers there in the 1950s, and that led to them getting married," he said. "So that's obviously very personal to me. Pajaro is in many ways a forgotten region… So we think this donation is a good way to really give these kids something that will be permanent, that will have a lasting impact.
Harris said the grant will allow the school to significantly and quickly improve its music education infrastructure.
"In doing so, our school's learning environment should quickly evolve into a more positive experience and allow our students to thrive," he said. "On behalf of all the students who enjoy and will enjoy music lessons, the Pajaro School offers its most sincere gratitude to the Foundation."