UM's Student Musical Theater Company Goes Viral With Parodies Of "It," "WandaVision," And More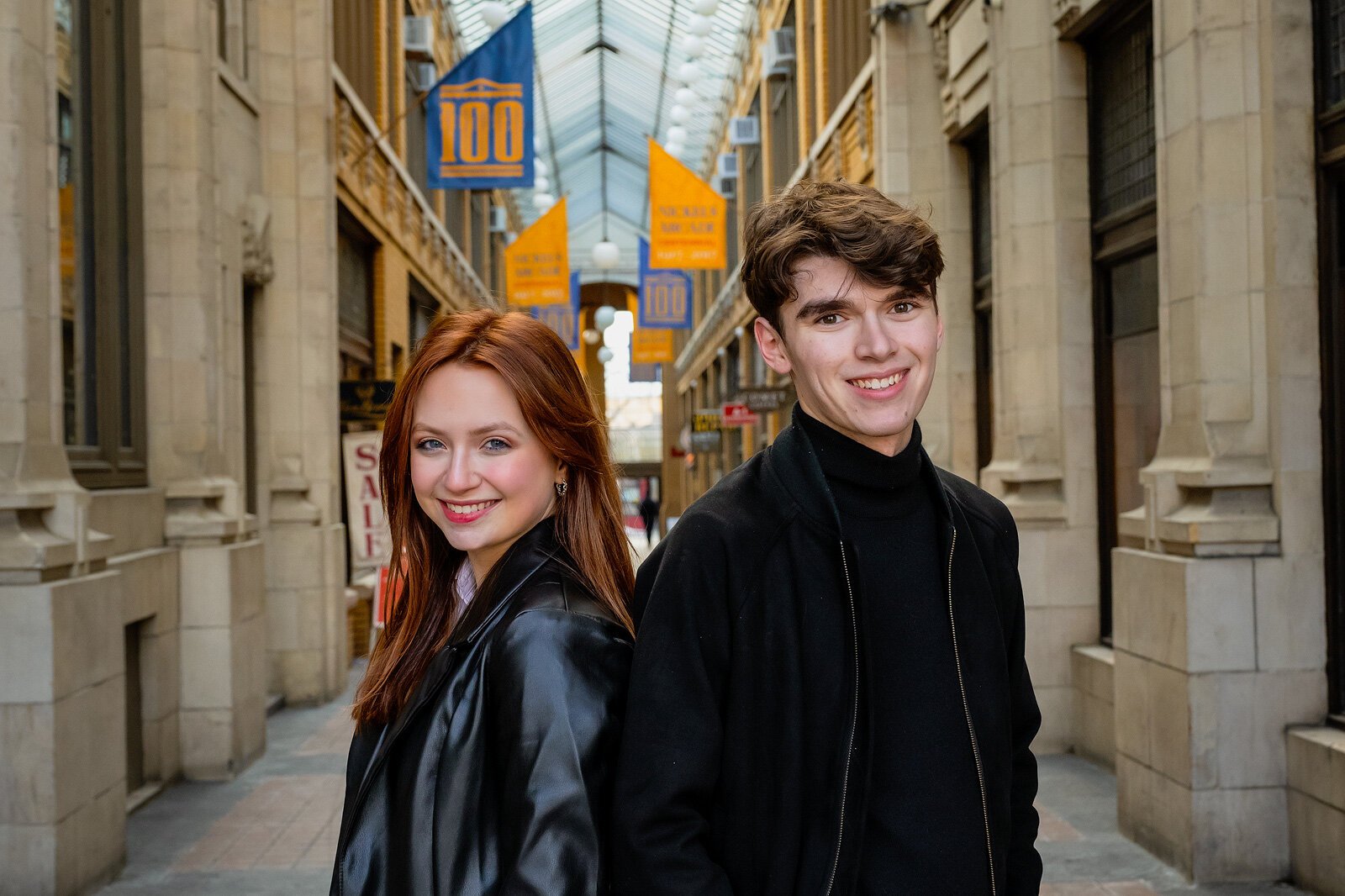 Have you ever imagined Stephen King's creepy clown tale "It" as a jukebox musical parody?
Well, two students from the University of Michigan (UM) in Saginaw did – and from that seed they formed a local theater troupe called Northern Town Parodies (NTP), whose videos have garnered tens of thousands of views online.
Freshman Nina Groll, a communications and media major; and senior Jack Doyle, majoring in theater design and production, met in high school because they participated in the same theater troupe. Their mothers first became friends, and Groll and Doyle eventually bonded over enjoying King's "It". They discovered that almost all of their friends also loved the classic horror novel, and they began imagining their theater friends playing the characters.
"We were like, 'Let's just do it,'" Groll says. "Nothing prevents us from doing what we want."
They assembled a small cast, rehearsed for two weeks, and held their first performance at Saginaw's Dawn of a New Day Coffee House in January 2020.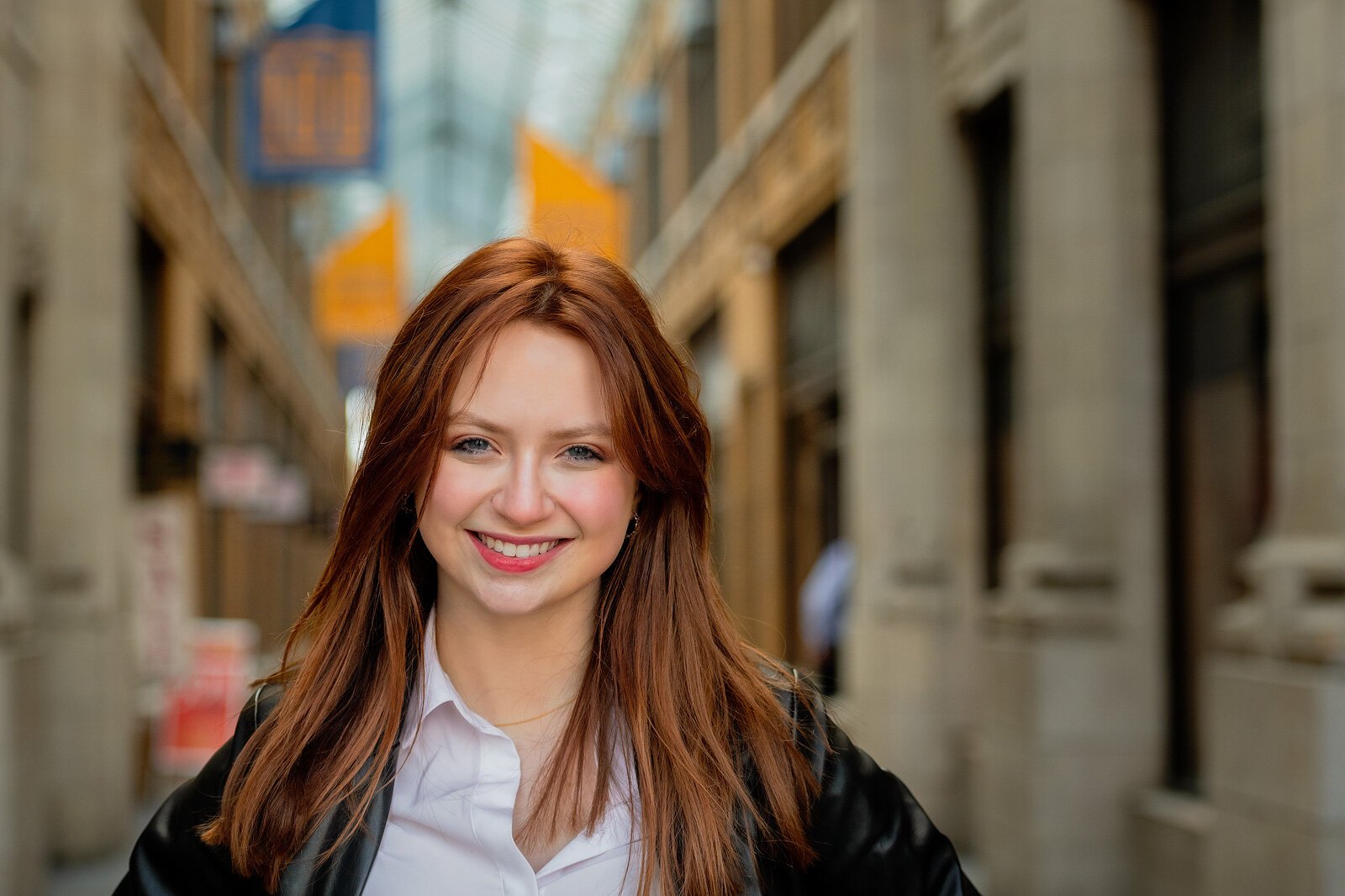 Nina Groll from Northern Town Parodies.
"It was just meant to be something fun that our friends did together, just because we wanted to," Groll said. "And then it really took off in the community. Afterwards, Jack and I both had people come up to us and say, 'That was so awesome. When's the next one? What are you doing? you next?"
Of course, COVID-19 shut down the fledgling troupe soon after. But the extended hiatus has forced the company to take its time defining its identity and developing its next more ambitious project. In the fall of 2020, the troupe became Northern Town Parodies, a name inspired by the song Dream Academy ("Life in a Northern Town") which NTP had used as the opening number for "It".
"That song was just very special to us," Groll says. "…And we felt that this song that pays homage to where we come from and how we started was the right choice, because at the end of the day, our roots are very important to us."
NTP's follow-up show, "The parody of Percy Jackson!", premiered outdoors in June 2021 at Saginaw's Cafe 476. The show spoofed "Percy Jackson," a popular young adult book series by Rick Riordan.
"We spent a lot of time proofreading and researching writing the Percy Jackson show," Doyle said. "I think I re-read the whole show while doing it, and I had the Percy Jackson wiki in place at all times so we could include all of that iconic fan stuff. It's great to see it reach young fans as well as fans of our age, who grew up with it."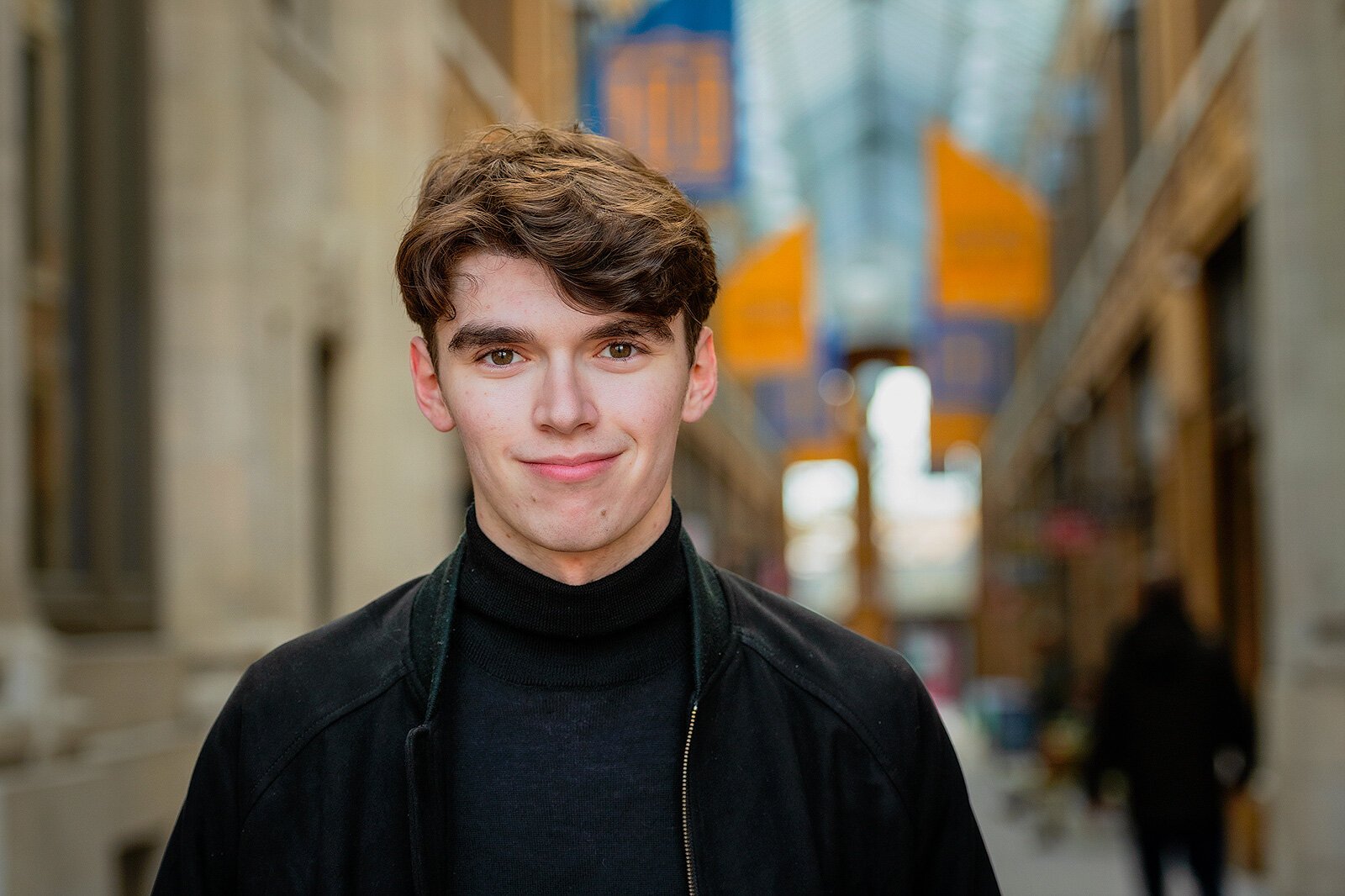 Jack Doyle of Northern Town Parodies.
The 90-minute performance has been viewed over 62,000 times on YouTube, and NTP currently has over 15,000 followers on TikTok. Groll credits NTP's success in part to the fact that the troupe only parodies "things we love".
"I think there's more genuine humor that comes from making fun of something you have genuine love for rather than something you don't," Groll says. "…We really want it to be something for the fans, by the fans."
Once NTP was finally able to produce shows again, the troupe maintained its momentum by bringing together its biggest outside company yet:WV: The Musical ParodyThe show inspired by Marvel's "WandaVision" superhero TV series debuted in July 2021, just a month after "The Percy Jackson Parody!" and four months after "WandaVision" ended.
"We knew it was an urgent thing to get up when people were still talking about it, when that style of humor that we realized we could put into it would still happen," Doyle said. "So that one was really sped up in our timeline."
More recently, NTP presented their first indoor performance – "Scooby-Doo: a musical parodyat the Historic Bay City Masonic Temple – Jan. 2.
"For a one-act production, we were looking for something that we could really strip down," says Groll. "And Scooby-Doo was appealing to us because it had these 30-minute episodes, so it would work for one act, and we could put our own spin on it. Also, we didn't necessarily need the big set or all of the special effects we needed for Percy Jackson and WandaVision."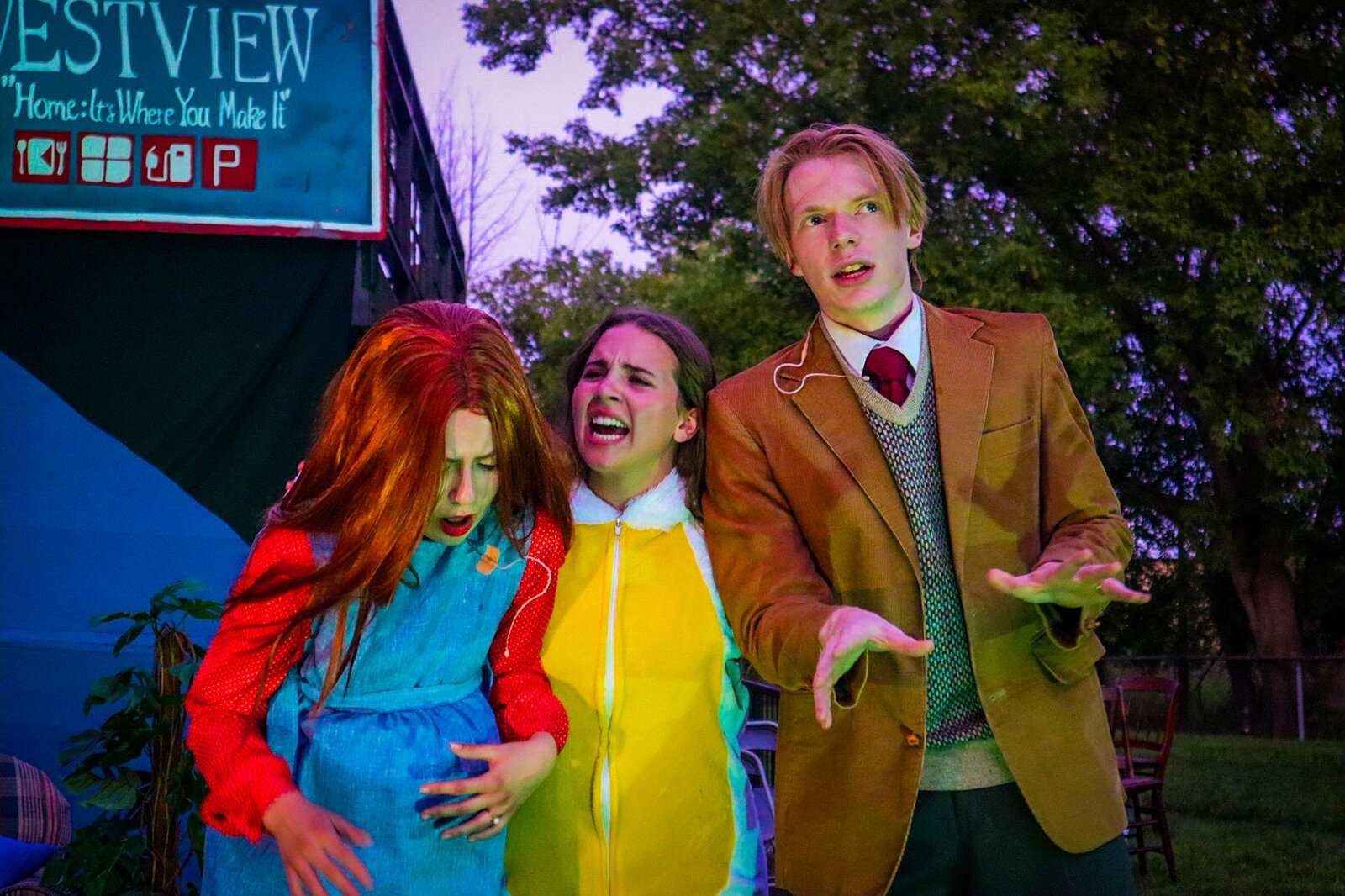 "WV: The Parody Musical" by Northern Town Parodies.
Scooby-Doo also allowed the troupe to expand its network in terms of audience. Doyle says Percy Jackson fans dominated NTP's fanbase for a while after the Jackson parody debuted.
"But Scooby-Doo, by promoting it, it's overstepping that limit," he says. "So it's cool to see all these new people engaging with the things we've created."
This isn't the first time UM students have caused a stir online with musical parodies of pop culture phenomena. The Starkid Team"A very pottery musical", featuring future "Glee" star Darren Criss in a parody of Harry Potter, which debuted in 2009, followed by "A very pottery suitein 2010. But NTP is forging its own path. Groll says she had never seen "A Very Potter Musical" until last fall, after hearing NTP's work compared to Starkid's a few times. .
"It's amazing that they were able to do what they did, and it's really inspiring to see this come out of Michigan," she says. "…But we're in a time where what's funny changes very quickly, so I think our sense of humor is different."
Groll also notes that Starkid had a musical team to write original songs, unlike NTP.
"It's one of our goals to eventually be able to transition to this, but right now we're having fun with the jukebox aspect of what we're doing," she says. "I think it opens up our shows to a less traditional theater audience."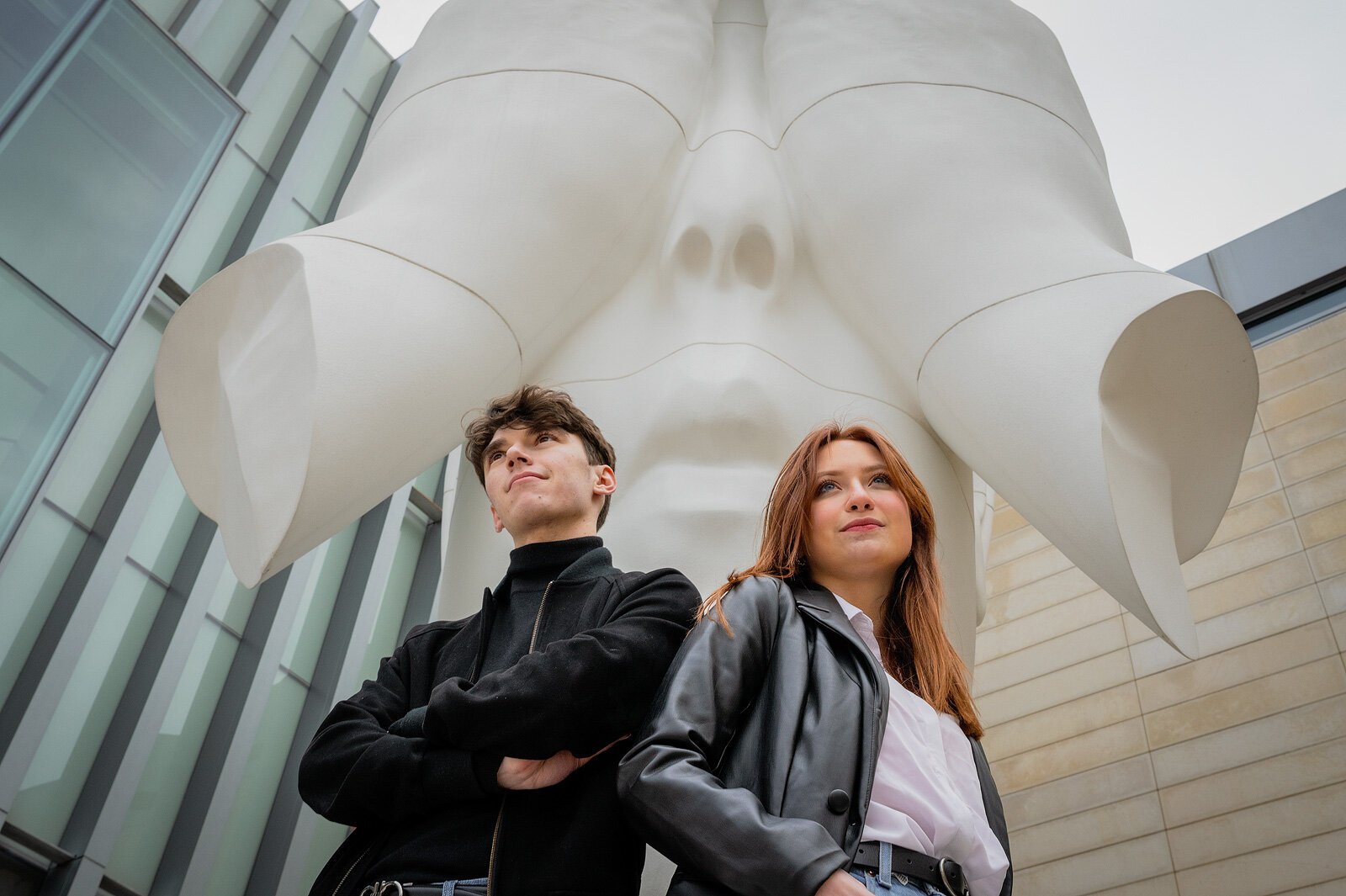 Jack Doyle and Nina Groll of Northern Town Parodies.
Later, the NTP may face logistical challenges. Four of the company's more than 20 members are currently UM students, and a handful of others attend other colleges in the Ann Arbor area, but the rest are still based in Saginaw. "Scooby-Doo: a musical parody!" was easy for the troupe to produce while all the members were home for the winter break. But as the troupe plans to expand to produce shows in Ann Arbor or elsewhere, Groll says the members are "definitely trying to keep in mind that ultimately this was built with a group of friends".
"It was built with people who we are very close to and who are very important in the creation of our shows," she says. "And we never want to leave them behind, because I think the community aspect is just as important as the creative aspect of our band."
Doyle and Groll won't divulge what they're currently working on, but they do hint that NTP may have some big news to share soon.
"There's something in the works, and it's super exciting," Doyle said. "But that's about all we can say about it, because not everything is certain yet."
What is "certain", however, is that NTP is having a good time, and its members are taking full advantage of it.
"Part of the reason I love seeing parodies, what we do, is that they signal issues with something without necessarily diminishing our love for it," Doyle says. "…But there's also something really cool about us as fans being Percy and Annabeth. [from 'Percy Jackson'], these characters that we adored as children. You can dress up and pretend to be them in front of an audience for a few hours. You fight with swords and do all these other cool things. …Who wouldn't want to do that?"
Jenn McKee spent more than a decade covering the arts for The Ann Arbor News and is now a freelance journalist and essayist. Follow her on Twitter (@jennmckee) and Instagram (@criticaljenn).
Portraits of Doyle and Groll by Doug Combe. Performance photos courtesy of NTP.